How the Showcase will operate.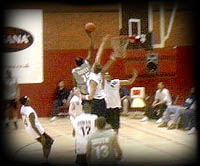 The Showcase is not a one-time showcase event. It is actually a series of showcases combined to give everyone an opportunity to participate, regardless of schedule or other factors that may keep someone from attending. By holding the events on multiple days, someone who couldn't make a particular time can still take part in a Showcase at a later date.

The Streetball Showcase's format will be a very familiar process for almost everyone: A regular pick-up game of basketball. No refs. No whistles. Just ballin'. Here are a few 'General Streetball' rules that the Showcase will adhere to:

Players call their own fouls.
Player disputes will be settled by one of the disputing players from either team by taking a single shot from the top of the key ("Hit or Miss")

There are a few differences however:

The teams will be pre-selected before the first ball bounces. Participants will be able to list other Showcase participants on their application to form a team. The official application will have four additional lines for any player to list the names of other players (who have sign up to be in a showcase)to be their teammates. If no teammates are listed, the player is to be placed on a randomly selected team. Random teams will be evenly paired by height to keep away unfair mismatches.


All participants will be given a Showcase Game T-Shirt to play in. This adds a level of professionalism and gives coaches a way to track you throughout the course of the game you participate in.


The score will be kept by the VirtualHoops staff member taping the game. All score issues will be settled by the staff member and their decision on the score will be FINAL.

The game itself will be a total of thirty (30) minutes, divided up into halves of fifteen (15) minutes each. Halftime will be five (5) minutes. The game clock will NOT stop running until the final 2 minutes of a close game. If a game is not close, the clock will be allowed to expire.

Players need to report to Run n' Shoot at least five (5) minutes prior to their scheduled showcase so attendance can be taken. Profile photos and vertical jump testing will be taken prior to the start of the game. The overall time of each showcase is one hour.

What if I can't make it? What if I am late?
All money is fully refundable until 1 week prior to the Showcase. Afterwards, only 80% of the money can be refunded because of the purchase of supplies prior to the Showcase. The application will give each player an opportunity to decide what to do with their money if they fail to show up:
Late-showing participants will have to play during the next game. No-Shows will be issued an 80% refund in the mail or will be offered a spot in future Showcases, depending on what option they selected on their application.

What, when and where How the Showcase will operate. How do I sign up?