What is the Streetball Showcase?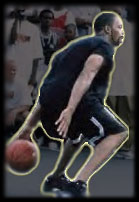 If you have MAD game but no fame, the VirtualHoops Streetball Showcase is for you. The Showcase will offer streetball players a chance to be seen by any college of their choice, doing what they do best.....

Hooping, streetball style!

The Streetball Showcase will be an exposure platform for unsigned players who want to play for a college. Players participating in the Showcase will have their games recorded and professionally edited to include game time stats. The finished, edited game will be sent to three colleges of their choice on VHS tape so the coaches can see them in action. Players will also get a 6 month membership to VirtualHoops, the new online recruiting website. At VirtualHoops, other coaches from around the U.S. can view profiles of each player with stats from their Showcase performance and video clips of them in action. If the coaches like what they see, they can order the player's Showcase tape and make a decision on recruiting that player.

It is more difficult for athletes who are not apart of an organized system (i.e. high school teams, other college teams) to gain exposure to college programs. There are no coaches to make calls on your behalf. There aren't any college recruiters coming to your pick-up games at the local court to scout you. Whatever the reason, the opportunity for you to take your game to the next level just didn't materialize. But it is never too late. The Showcase could be your opportunity to restart your athletic future, no matter what your goals are.

College coaches don't only look for high schoolers when they are recruiting...... they look for the BEST AVAILABLE TALENT. If you have the skills, the coaches just may make an offer to get your athletic career on the fast track. By becoming a member of VirtualHoops, you'll have access to all of the features we offer to not only get you noticed but to also help you get better.
When is the Streetball Showcase?

The Showcase will begin on March 29, 2003.
How much does the Streetball Showcase cost?

The cost will be $85 per player.
Where is the Streetball Showcase?

The Showcase will be held at the facilities of Run N' Shoot located at 1959 Metropolitan Parkway in Atlanta, Georgia.

To get to Run N' Shoot,
1) Travel on 75/85 and take the Lakewood Freeway West Exit (South of downtown Atlanta), turn right at the stop sign onto Lakewood...
2) Follow Lakewood approximately 1/2 mile to the stop light which is Metropolitan Parkway (formerly Stewart Avenue)...
3) Turn left onto Metropolitan and follow Metropolitan approximately one block. Run N' Shoot will be on your left behind AutoZone.
If you are ready to take the step towards college......we are ready to help!
What, when and where
How the Showcase will operate.
How do I sign up?